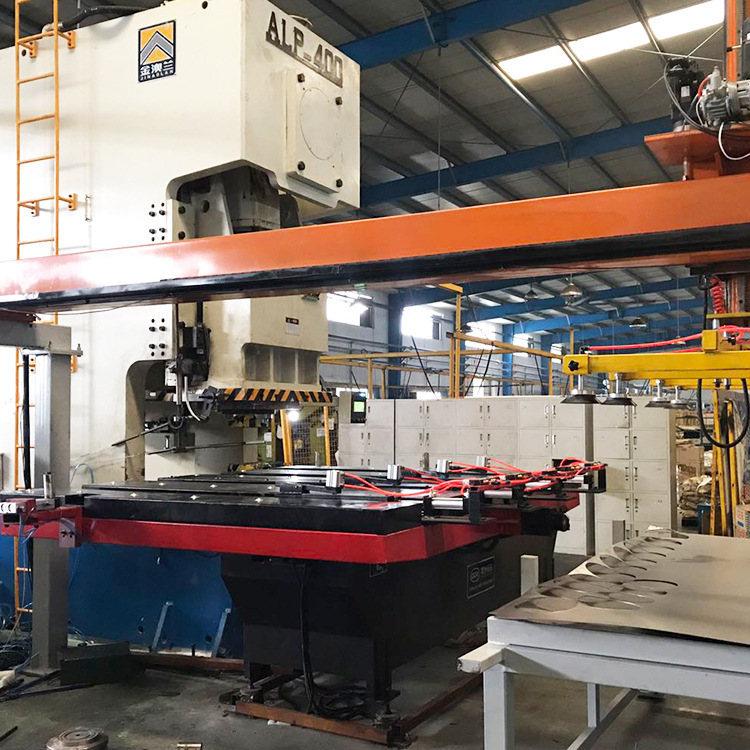 Features:

The first step: the crane hoists the raw materials to the mobile material table (chain drive), and travels electrically to the automatic feeding machine grabbing station.
Step 2: The automatic feeding machine uses the vacuum suction cup to grab the material, and the servo lifts and servo feeds it to the CNC punch feeder station and discharges the material to the feeding table.
Step 3: The automatic centering device of the CNC punch feeder aligns the material in the left and right directions, the pneumatic clamp advances to clamp the plate, and continues to travel to the punching position of the punch.
Step 4: The feeder cooperates with the punching machine to punch the stamping parts. When the punching reaches the position where the clamps need to be avoided, the clamps will automatically avoid punching.
Step 5: The CNC feeder returns to the starting position, and the automatic feeder has grabbed and moved the material to the feeding position of the feeder for the second time for the second cycle of feeding and stamping.
Product number
1. Material: iron plate
2. Plate processing size: 2500mm*1200mm
3. Plate processing thickness: 4mm
4. Feeding method: suction cup suction, pneumatic lifting, servo walking drive
5. Positioning method: Pneumatic automatic centering, automatically find the origin.
6. Feeder structure: CNC platform type
Recommended equipment: a set of punch automatic feeding and feeding production line
One automatic feeding machine LYSL-2500mm
One CNC feeder LYSK2500mm*1200mm
The main performance of the product:
1. Driven and locked by famous brand AC servo motor to ensure high speed, stability and precision.
2. Over-current, over-voltage, over-heat, and phase-misalignment protection, which is convenient for system maintenance.
3. Error code display, program power-off protection.
4. Software compensation for mechanical clearance, multi-level selection of working speed, and decimal data input.
5. The main electrical components are placed in the electric control box to prevent the wires from being exposed, which is safe and easy to maintain and protect.
6. Precision ball screw drive ensures high machining accuracy and high speed.