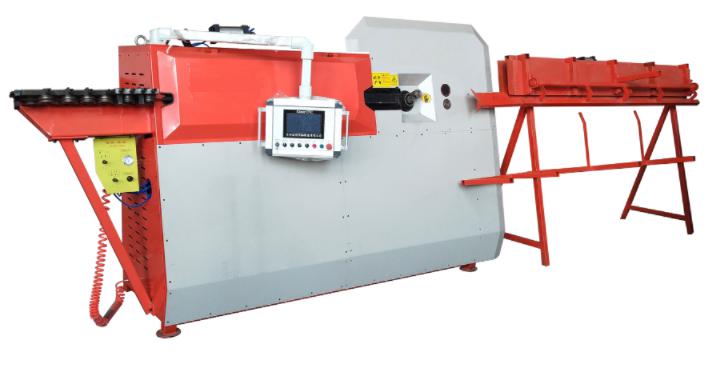 | | |
| --- | --- |
| Single wire steel bar diameter | Φ6 ~ Φ12 |
| Double wire steel bar diameter | 6 ~ 10 mm |
| Maximum bending angle | ± 180° |
| Maximum traction speed | 130 m/min |
| Maximum bending speed | 800° ~ 1050° /sec |
| Accurate length | ± 1mm |
| Angle accuracy | ± 1° |
| Host mass | 3500 kg |
| Dimensions | 3980 × 1200 × 2200 mm |
| Traction motor power servo motor | 20.4kw |
| Bending hoop motor servo motor | 7.5kw |
| Drive synchronous servo motor | 25kw/7.5kw |
| touch screen | 10.6 inch |
| Shearing motor power | 4 KW |
| Pneumatic system pressure | ≥ 0.7 MPA |
| Average power consumption | 8 kw/h |
| Total equipment power | 35.9 kw |
| Maximum stirrup diagonal | 1500 mm |
| Maximum stirrup diagonal | 60 mm |
| Working environment | -5 ~ 40℃ |
Features
luyuan LYWG-16A automatic intelligent steel bar bending machine plate bar, horizontal bar and stirrup can be solved by one machine.
The processing accuracy is up to 1mm, and it can be selected and used, and graphics can be edited according to customer needs.
Using split multi-purpose blades, the service life is more than twice that of traditional blades.
It can be equipped with a patented fully automatic receiving rack, which is efficient and convenient.
The standard 6-meter slab bar frame can meet the requirements of special slab bar production. At the same time, it adopts a multi-line travel return device to process more graphics.
Installation preparation
■ The user prepares a four-core copper-core cable with a long distance to the electric box, the specification is 3x 10+6mm2 and above, and is properly grounded as required.
■ The switch specification in the user-supplied electrical box is a 3-phase 3-pole air switch with a rated current of 100A or more. If a leakage switch is used, the rated current is required to be more than 100A, the leakage action current is more than 150mA, and it must be grounded reliably.
■ The installation site is 5 meters wide and 20 meters long, with a flat cement floor, where the host machine occupies 2.5x4 meters, and the material rack and steel bars occupies 3x10 meters. The site is required to be shielded from wind and rain to prevent the precision electronic components of the equipment from getting wet, which may cause damage to the equipment.