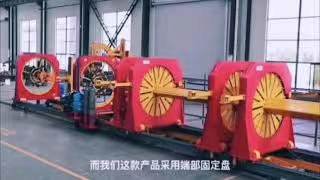 more machine videos ,pls check youtube luyuanmachinery
CNC steel cage rolling welding machine is a PLC-controlled equipment for processing and producing steel cages.
According to the needs of construction, the main reinforcement of the reinforcement cage is manually passed through the distribution plate, the circular hole of the corresponding template of the mobile rotary plate is moved to the corresponding hole position of the mobile rotary plate and fixed, and the end of the coil reinforcement (winding reinforcement) is welded to a main reinforcement. Then, through the rotation of the fixed rotating disk and the moving rotating disk, the winding rib is wound on the main rib (the moving disk moves away from the fixed disk on the track while rotating), and welding is performed at the same time to form the product reinforcement cage.
MACHINE ADVANTAGES:
◆ Fast processing speed: under normal circumstances, 5 people work in one shift for material preparation and seam welding, and work in two shifts. 10 people and 24 people can process more than 20 cages with a length of 12 meters (material preparation, seam welding, reinforcement installation, detection Pipe installation, guide pad installation, etc.), the work efficiency is very high.
◆ Stable and reliable processing quality: Due to the use of CNC mechanized operation, the spacing between the main bars and the winding bars is uniform, the diameter of the steel cage is the same, and the product quality fully meets the specification requirements. In practice, engineering supervisors go to the processing site to inspect almost every day when rebar cages are produced by hand.
◆ The stirrups do not need to be lapped for tensioning, which saves 1.5% of materials compared to manual work and reduces construction costs.
◆ Because the main reinforcement is evenly distributed on its circumference, it is very convenient for multiple reinforcement cages to overlap, saving hoisting time.
◆ Mechanized processing of steel cages guarantees quality control.
Cnc Telescopic pile cage welding machine 1600D

denomination

LYGH1600D

Processing diameter

250-1500mm

Rebar cage weight

8000Kg

Rebar cage length

1m---12m(can extend to 30m)

Spiral bar diameter

Φ5~16mm(Ⅰ、Ⅱ、Ⅲgrade steel)

Spiral bar space

20~500mm(can be adjusted)

Main bar diameter

12~40mm

Main motor rotate speed:

100~2100r/min(can be adjusted)

Hydraulic station pressure:

6~20Mpa(can be adjusted)

Total power

35kw

Machine weight

15T-22T